---
---
Using the right base layer under your riding gear can be a game-changer for comfort, especially in Indian riding conditions. Regular cotton t-shirts tend to hold moisture, show sweat patches and only offer limited ventilation. The 2nd Skin Base Layers from ViaTerra, on the other hand, truly feels like second skin under the riding jacket and comes with a whole host of important features designed to work for the hot & humid weather in India. It is made with a special breathable & moisture-wicking material that has treated with PolygieneTM, used by leading performance & sports wear brands globally, including Adidas, for odor control and to inhibit bacterial growth. It dries quickly after a wash and the mesh zones keep you comfortable and cool under your jacket on any kind of ride! Once you've tried these, they will truly become your 2nd skin.
Comfort piping to reduce chafing on the skin
The 2nd Skin Base Layers from ViaTerra are constructed with soft piping on all seams, which provides added comfort during long days in the saddle. This means that the edges of the seams have a soft material applied to them, which reduces irritation and chafing on the skin, making it more comfortable for the rider to wear for extended periods of time.
Polygiene Treated for odor & bacteria control
Uses a special ODOR CRUNCH Swedish technology that works as a natural anti-odor treatment by capturing, 'crunching,' and permanently removing odors using natural silica particles, the primary component of common sand.
This keeps clothing and fabrics smelling fresher for longer and reduces the amount of washing required.
Moisture Wicking for sweat absorption
The moisture-wicking fabric used in the base layers is specifically designed to pull sweat away from the skin and move it to the surface of the fabric, where it can evaporate quickly. This helps to keep your skin dry and comfortable, preventing the buildup of sweat and odors - even during long and intense rides.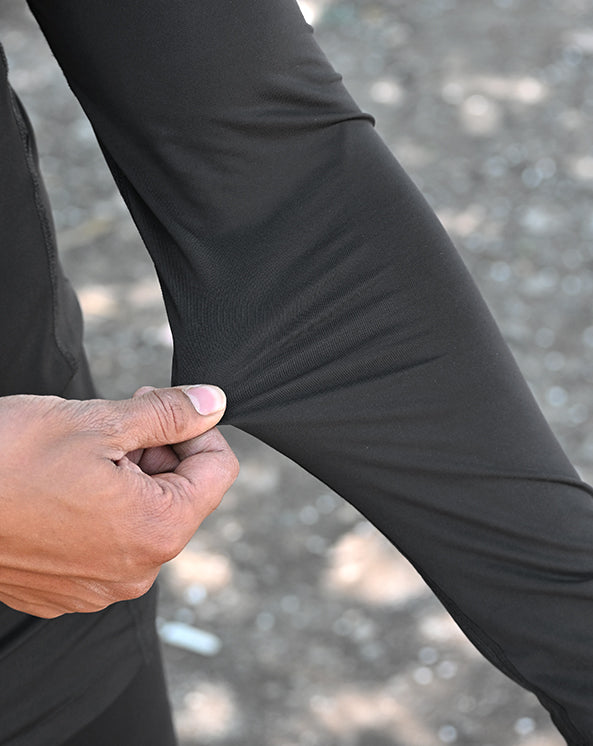 4 way stretch to maximize flexibility
The 4-way stretch fabric allows for maximum flexibility and movement, so you can wear the base layers comfortably under the riding jacker/ pants during long rides. The breathable fabric also allows for air to circulate, keeping you cool and comfortable.
Flat lock seams for added strength & durability
Flatlock seams are created by overlapping two pieces of fabric and then sewing them together, which results in a strong, durable and comfortable seam that lies flat against the skin. This construction method makes the ViaTerra 2nd skin base layers more comfortable to wear, as there are no raised or irritating seams against the skin. Additionally, flatlock seams also reduce stress along the seams, which helps to prevent the base layers from stretching out of shape or becoming damaged over time, making it more durable.
Fabrics:
Special knitted fabric with moisture wicking - offers 4 way stretch and enables quick evaporation for sweat
Polygiene Treated:
Uses a special ODOR CRUNCH technology to absorb and neutralize odor molecules
Thread:
We use Nylon-6 thread in our products – this is much stronger than polyester thread.
IMPORTANT NOTE –
Wash separately in cold water before use
Once washed or worn, this product cannot be returned for a refund or exchanged with another product.
1. Drip dry the base layers after washing in cold water in a ventilated area away from direct sunlight.
2. Do not wring the base layers.
3. Do not use any fabric stain removers, bleach or any chemicals for cleaning.
4. If there are stains which you are not able to remove using a damp cloth, use a soft bristled brush soaked in a mild pH neutral soap and rinse off using cold water. Please note that using the brush could lead to piling which will not be covered under warranty.
5. Allow to air dry thoroughly before storing in a shaded area
6. Store away from the sun & other heat sources
7. Dry-cleaning or using a clothes dryers will void the warranty as this will damage the special coatings that the fabric has.
8. Do not alter the product or get it repaired at an unauthorized repair centre as this will void the warranty.
ViaTerra provides a 6 months warranty against defects in materials or craftsmanship if purchased directly from us or from an authorized dealer. Please click on Warranty policy and choose the relevant category for further details.
Lifetime repair support
Fabrics fade, zippers get stuck, plastic fittings break – a few things that could happen with usage. We believe in extending the life of our products so that we use lesser natural resources and you get more bang for your buck. Please write to us on contactus@viaterragear.com if you require any help with repairs or have any questions! 
---